Issues with IoE Revised entrance results
Tweet
IoE has published its first entrance results few days ago, and then later republished the entrance results citing some technical mistakes. The results contrasts for following few cases.
Results of Analysis
changed scores
I converted the pdf to csv. The csv for original result is here and for revised result is here.
The code for analysis is here and the results are here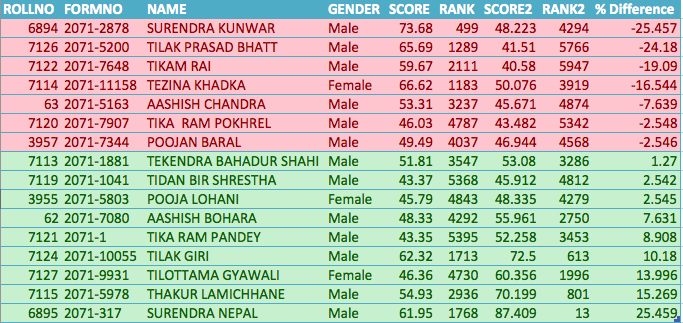 The scores of 16 students has changed.
Contrasting list
2 students missed the first list, and 2 missed the second list.
Roll number 7116 and 7123 appear in revised result only.
Roll number 7125 and 7117 appear in first result only.
Disclaimer
I have used online tool to convert pdf to csv. So, i don't claim the accuracy of the analysis as inaccuries may be incurred.
Discuss this post via e-mail
comments powered by

Disqus